Astoria
---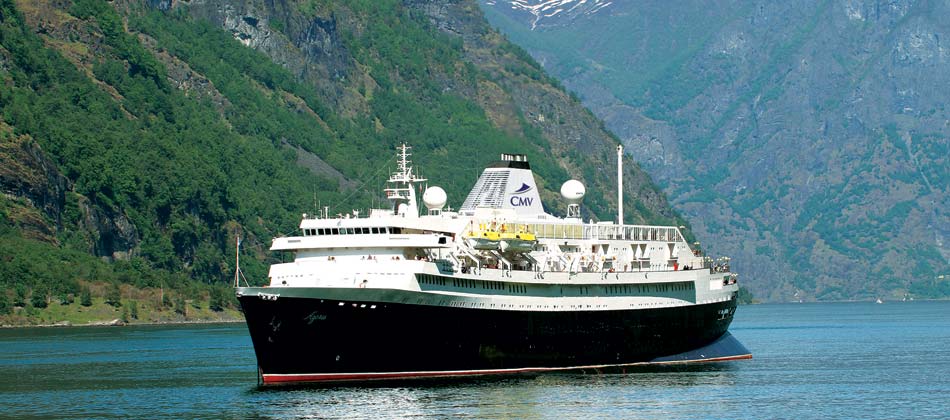 New for 2018 is the adults-only Astoria, which will be sailing out of Portsmouth for the first time. With a handsome profile and a traditional walk around deck, Cruise and Maritime Voyages' Astoria carries just 550 passengers. It has an intimate feel, and offers a wide selection of well-appointed public lounges and comfortable cabin accommodation spanning eight passenger decks serviced by two lifts. Its size also allows it to access some of the smaller ports that the larger vessels have to pass by.
See all our Astoria cruises from Portsmouth
As soon as you walk on board you will be impressed with the beautiful marbled reception area. The ship's enhanced facilities include two sitting dining arrangements in the impressive two-sectioned Olissipo Restaurant with its lovely sea views. As an alternative there is also a buffet dining facility in the Lotus Lounge. There is a choice of five comfortable lounges and bars, including the impressive Calypso Show lounge, where you can watch the colourful floor shows, and a separate nightclub where you can dance the night away. Other entertainment facilities include a cinema and casino and there is also a well-stocked shopping area, photo shop, library, internet café and card room. Allow yourself to be pampered in the health and beauty centre or work off the extra calories in the gym.
Outdoors, the Astoria is famed for her wide and ample deck spaces, especially her traditional full walk-around Promenade Deck, and a lovely outdoor pool.
Each cabin is air conditioned with private en-suite facilities including marble floored bathrooms with a bath and shower plus ample wardrobe and storage space. All cabins also have music channels and the added benefit of a television for in-house movies, news and information channels, a hairdryer, fridge with a mini bar facility and also a personal safe. The junior suites, balcony suites and owner's presidential suite also have the added benefit of a jacuzzi and a seating area within the cabin.
The staff and crew complete the warm and friendly atmosphere and always strive to make your cruise one that you will remember for a lifetime.
Restaurants
Olissipo Restaurant
Picture yourself with your table companions enjoying a sumptuous meal in the Olissipo Restaurant served by our attentive restaurant staff. Dining on board is always a special event and on Astoria you will experience new levels of gastronomic delight. From breakfast through to late night snacks you will be impressed by the choice and quality of the superb food our chefs have prepared and by the friendly, attentive service of the stewards.
Lotus Buffet
Breakfast, lunch and dinner will be served in the Olissipo Restaurant or alternatively in the Lotus Buffet where you may choose to eat "al fresco" on the Pool Deck.
Lounges
Calypso Show Lounge
In the evening, you are invited to take your seats in the Calypso Show Lounge for a show of song and dance or to enjoy the talents of one of our guest acts. Cabaret performances will certainly keep you entertained well into the night. And, for the night owls, there's dancing in the Night Club. Cruise and Maritime recognise the importance of offering a very high standard of evening entertainment brought to you by our experienced Cruise Directors and entertainment hosts. It is their aim to ensure that you have an unforgettable cruise holiday and present a truly wonderful and varied entertainment programme. With 'big show' productions, guest acts, cabarets and classical interludes, there's something for everyone on board.
Sirenes Bar
For something more mellow, relax to your favourite melodies in the Sirenes Bar and enjoy a drink and conversation with new found friends.
Casino
Make up a table for a round of cards on the Card Room or try your luck in the Casino.
Other Facilities
Gym
The Astoria comes equipped with a compliment of exercise equipment.
Pool, sauna and steam room
Relax and unwind after a busy day of site seeing with in the pool and cleanse in the sauna or steam room.
Health and Beauty
With an on board hairdresser and a treatment room for facials and massage, the health and beauty centre has all you need to pamper yourself and indulge your senses.
Cruise & Maritime Voyages
Cruise and Maritime specialise in providing 'no fly' cruising holidays aboard smaller sized classic and more traditional style ships. They believe that these vessels offer a more leisurely and friendly 'home from home' style of cruising experience and are accessible to a much wider choice of interesting and remote ports of call.
Cruise and Maritime realise that many seasoned and first time British cruisers still prefer the more traditional cruising experience. The emphasis is very much on attaining high levels of customer satisfaction and attentive and friendly service and ensuring that passengers return home with many fond memories.
See all our Astoria cruises from Portsmouth
Gallery